Last week, with some assistance, I put together a lifestyle shoot in the interests of boosting my portfolio, and I haven't enjoyed myself behind the lens so much for a long time. It was a real buzz to work with such a creative team, and be without the shackles of a written brief, and simply my own vision of what I needed to achieve. Admittedly I did have my moments when I simply, creatively ran out of steam, but fortunately they were only ever short lived.
I felt free as essentially I was the client, and yet I felt awkwardly constrained especially in the edit. We got so many great photographs in comparatively such a short space of time that it was a true testament to putting a good team together. I was quite fortunate in this regard.
I used a virtual PA service to put this together. I'd never used someone like this before, and she likewise. I assumed too much. It wasn't her fault that she didn't know what TF meant or a MUA is. So it took quite a while to put together. Initially I'd planned on shooting two or three different groups of models in various locations around the city over a 48 hour period. Whammo. Nail a knew portfolio whilst I'm firing on all four. I know I can pull of the shots - it's the co-ordination of the whole damn thing that's a killer. I'm sure any Creative who's been in the game for a wee while will understand the trials and tribulations of organising half a dozen people to be at the same place at the same time, all chosen specifically for their skill, and to be bursting at the seems with creativity. It ain't easy. Val did an outstanding job of putting this all together, though I'm not sure whether she's game for another one or not.
It was the team that made these shots, I simply lit them, composed them and clicked the shutter. Without the bounciness of Alex, the sharp wit of Pat, the brilliant hair and make-up by Steph, the stylish input from Pash, and the generosity shown us by Ann at the Castlefield Hotel, I'd never have been able to make these photographs.
So it's now onto the next one. I've another couple of rather cool venues lined up to use this month, so I'm now putting together another team. If you're a model, stylist or make-up artist looking to expand your portfolio then please do drop me a line.
Finally, before I sign off....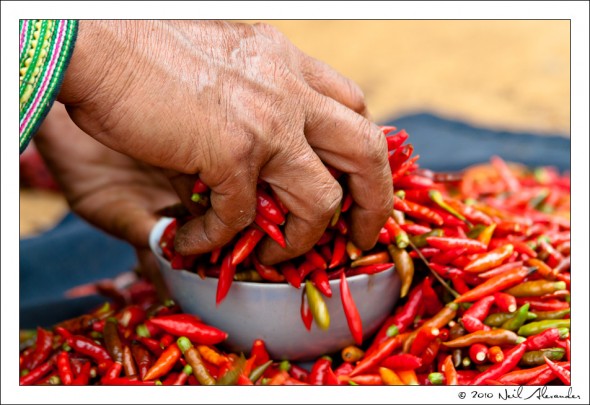 A woman measures chillis in a bowl at Can Cau market, Sapa by Neil Alexander
Last Sunday I had this image appear in the Sunday Times Travel Section, which was a rather pleasant, and slightly unexpected surprise, and I might add with a far better caption! Check it out here. See more of my images from Vietnam here.
Have a great weekend.
Neil