About a month or so back, I decided for one reason or another that it was time to change up my mobile handset and after careful deliberation discarded my trusty iPhone 4 and bought a Samsung Galaxy SII running the Android OS. One of this particular handset's biggest selling points for me was the camera. It's fantastic. It's so user friendly and the level of control afforded to the user is just as good as having a low-end point and shoot in your pocket. It has features like white balance adjustment, exposure compensation, macro focus, a self-timer,manual ISO (up to 800), vibration reduction, gps-tagging, and many more.
It also became apparent very quickly that whilst the majority of the apps that I used on my iPhone & iPad were available on Android; Evernote, Nozbe, Docs To Go, Dropbox, Spotify, Audible and others, there were some notable exceptions especially on the photography front. One of my most used on the iPhone was Pro HDR Camera, and I was pleasantly surprised to see this on the Android marketplace. I was even happier once I'd installed it. On this handset, this app flies. I don't have the iPhone anymore so I can't do side by side testing, but I'd hazard a guess that on the S2, Pro HDR will process an image in around 1/4 of the time that the iPhone 4 did, if not faster. In fact, every app flies on this handset to be honest. So to my list, as the title of this post demands: (I could really have gone to town on this and done the 20 or so apps that I can't live without, but I figured simple is best. So it's 4. But they're the ones I use all the time.
2) Next up is an app that's new to me so I'm still experimenting. Camera Zoom FX extends the functionality of the default camera app even further by offering manual focus, continuous focus (for video), burst mode, time-lapse, voice activation and more. The FX part of the name refers to a bunch of extras that can be added to the app which I've not quite got my head round yet, but by default framing, vignetting and a whole raft of Instagram-esque filters are included too.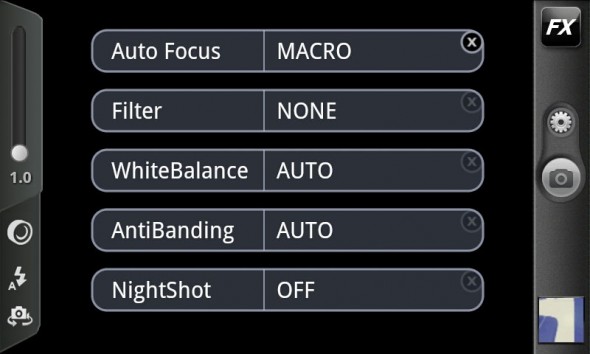 3) Third on the list is so simple, and it's not technically a photography app, but I use it a LOT. It's called simply "Torch - Flashlight", and it does exactly what it says, but the beauty is that the little flash on the back of this SII is so powerful that this app turns the phone into a very useful emergency torch - much brighter than the iPhone 4. Only last weekend I was up in the Peak District, about a mile from the road down a boggy gorge to shoot sunset. By the time I was ready to pack up it was pitch black. Where was my torch? In the boot of the darn car. SII to the rescue. It helped me pack all my gear and find my way back up the gorge I was in and back to the car. Saved my ass I can tell you.
4) Finally, and a little disappointingly this is an IOS only app at this stage. Velaclock beautiful in it's simplicity. It simply tells you sunrise and set times for a given location (and you can save several), moon times, and azimuths along with associated astronomical, nautical and civil times. Doesn't appear to be available for the 'droid at all, and after hours of scouring I'm afraid to say that I haven't found anything that comes even close.