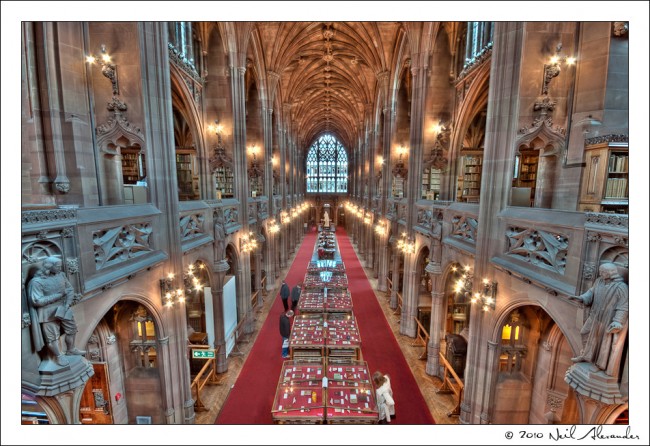 The other weekend I was fortunate enough to be able to get into John Rylands Library in Manchester on one of their occasional photographic tours. This means that you've got an hour to go pretty much where you like and shoot with whatever you like (lights, tripods etc). Normally you are allowed to take photographs inside the library, but tripods and strobes are strictly forbidden. The library was originally designed by Architect Basil Champneys in 1889, took 10 years to build and was commissioned by Enriqueta Rylands in memory of her husband John Rylands who was a Manchester based entrepreneur and philanthropist in the 19th Century.
[caption id="attachment_1082" align="aligncenter" width="469" caption="John Rylands Library by Neil Alexander"]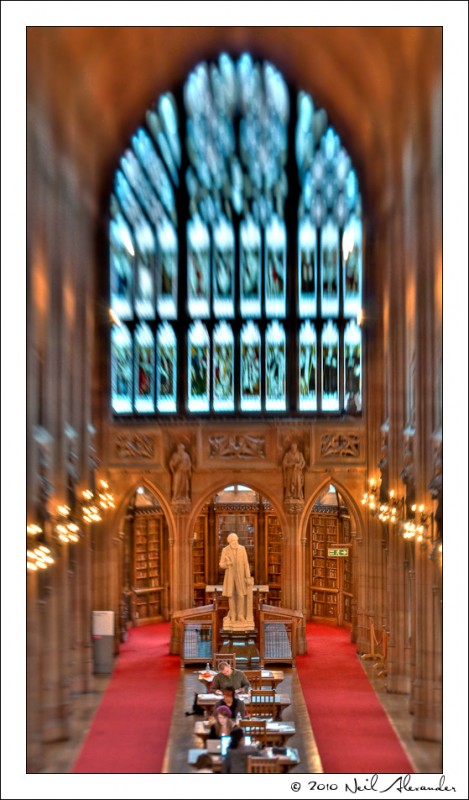 The architecture of the building is absolutely stunning, and today it is operated by the University of Manchester as a public library. The same unfortunately can't really be said for the lighting. Away from the fancy new entrance, its really quite dark and dingy inside. Right from the word go, I knew that HDR was the way to go – any scene you looked at was a combination of really bright highlights and dark gloomy corners. So these images are a series of 7 frames (a little overkill) tone mapped in Photomatix and then layered and tweaked a little in Photoshop CS5.
[caption id="attachment_1080" align="aligncenter" width="650" caption="John Rylands Library by Neil Alexander"]